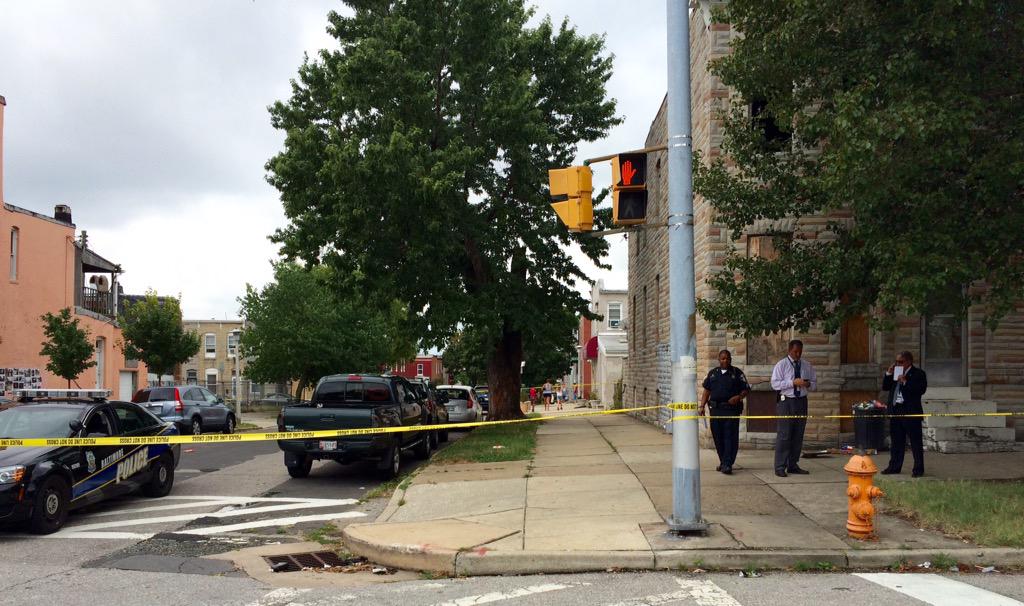 credit: @justin_fenton
Sad and frightening news today. At around 11am this morning, a young man was shot on the even side of the 2700 block of Huntingdon Avenue. Witnesses report that he was shot in the forehead. The ambulance into which the victim was loaded did not immediately rush off to the hospital. Other witnesses have said the opposite.
The condition of the victim is not known at this time. The police department reported on their Facebook page around 4pm that the victim survived but sustained severe injuries and is being treated at a local hospital.
The victim survived for many hours, but died of his injuries late Thursday night.
The identity of the victim has not been formally released, but witnesses say he was a former resident of Remington named Raykwon Young who has been coming around again recently.
According to neighbors and witnesses familiar with the incident, the attack was, like most violence in the city, related to drugs.
Some neighbors and witnesses familiar with the incident believe the attack was related to the local drug trade. Friends of the victim, however, disagree. "He wasn't a drug dealer, he didn't even sell drugs. He's only 20 yrs old, and he's about to start college," says Stephanie Williamson, who lives near the site of the shooting.
Drug dealing has been an active problem again recently on the 2700 block of Miles Avenue, which backs onto Huntingdon Ave., with some reported activity near the site of the shooting on the southern half of the even side of Huntingdon Ave.
**Anyone with information is asked to call Metro Crime Stoppers at 1-866-7LOCKUP.
**We will update this page as more information becomes available.
**Witnesses report that the attack immediately followed an argument about a dirt bike between the victim and his assailant.
**Witness speculations about the motive have been updated. **Twice now
**A typo has been corrected in the first paragraph above.
**City Councilwoman Mary Pat Clarke, who represents roughly half of Remington, says she has contacted Baltimore Police leadership about renewed patrols and police presence for the neighborhood.
**As of about 6:30pm, Young is alive and in critical condition.
**Young died in the hospital of his injuries late Thursday night/early Friday morning.
**Earlier versions of this story and the associated editorial contained a misspelling of Young's first name. We deeply regret the error.
**Police have two suspects in the shooting, and have apprehended one. Police and community leaders urge anyone with information on the case to contact police at 1-866-7LOCKUP.
The red star indicates the approximate location of the shooting that happened at 11am today.